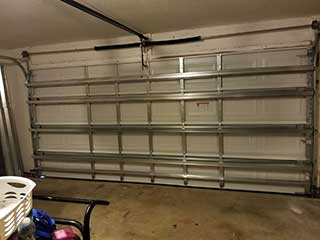 As arguably the hardest working components of any garage door system, the springs need to be cared for more often and thoroughly than any other part. Dealing with them can be dangerous, though, so it's imperative that you avoid from trying to do it on your own. Our technicians can take care of any spring related problem for you, safely and quickly.
Torsion Spring Adjustment
If your door uses this type of spring system, then you may need to get these components adjusted to make sure that your door doesn't get uneven. Since torsion springs use torque and are more flexible and durable than their counterparts, they are often considered safer. But that doesn't mean that it's safe for you to try to handle them. After we finish adjusting their tension, we'll also make sure that they are properly lubricated and able to work smoothly and silently.
Replacing Broken Springs
It's easy to tell if you have a broken spring. If you're in your house when the spring breaks, you'll probably hear a loud bang, which is caused by the sudden release of tension, and if your door is open when that happens, it will probably slam down. You won't be able to open it afterwards, no matter if you use your opener or the manual way. You shouldn't try to force it open, though, as you could get hurt. Spring replacement is another complex task that can be dangerous when mishandled, so leave things up to our repair specialists.
Proper Maintenance Extends Longevity
Our maintenance service covers all of the different parts of your garage door system, and this includes the springs. These components are meant to last for about 5000 to 10,000 cycles, depending on their type (extension or torsion), but that is as long as they receive an adequate amount of maintenance. Lubrication and tension adjustment performed on a regular basis are excellent ways to ensure that your garage door springs do in fact live up to that life expectancy, and even potentially even surpass it.
Expert Assistance Available
No matter what kind of problem you have, you can count on our team at Garage Door Broken Spring Orlando to provide you with a fast and effective solution, no matter how complex or dangerous the issue may seem. Contact us today to receive the best service around.
We also offer the following:
Part Replacement & Lubrication
Broken Spring Replacement & Repair
Genie Garage Door Opener Services
Extension & Torsion Spring Replacement