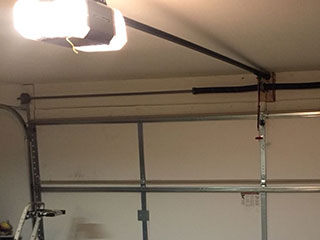 Garage door openers differ according to their mechanical type. Like all devices, especially those with moving parts, they must be maintained to keep them working properly. We provide services to replace, care for, and repair opener units.
Choosing The Right Opener
Based on your type of garage, noise preferences, and price point, we can help you choose the correct door opener for you. The three types of opener available are the chain drive, the belt drive, and screw drive. Like the name implies, chain types use a chain to move the door - they can be slightly noisy but are also an affordable option. Belt types use a belt in place of the chain, resulting in a quieter operation. They don't generally cost much more than chain drives. Lastly, screw drives work with a threaded rod and trolley to move the door. They need very little in the way of maintenance but like openers which use a chain, can be fairly noisy. Some opener models come with additional features, like smart device compatibility. Our team can provide more information and help you select the right unit for you, just get in touch!
Installing Your New Unit
We will ensure that the installation of your device is done properly and safely, along with any special features you're after. Our installation program consists of preparing your garage, installing the opener, and performing safety testing. We'll always make sure your sensors and reversal features are working properly as part of our installation service and safety testing.
Maintaining And Repairing Your Device
Regularly maintaining your device will help to extend its lifespan and keep it working correctly. We can help to maintain your opener by lubricating the moving parts and inspecting the safety features to ensure they're functional.
Even with regular maintenance, repairs may sometimes be needed. We can fix all kinds of opener problems, from switch or remote failure, to worn motor gears or issues with the safety features. When we're done, we guarantee we'll leave your opener working as it should.
Contact Us Today
Contact us today for help with the installation, maintenance and repair of your opener. We'd love to hear from you!
Couldn't find what you're looking for? We also offer:
Garage Door Troubleshooting Services
Garage Door Torsion Spring Replacement