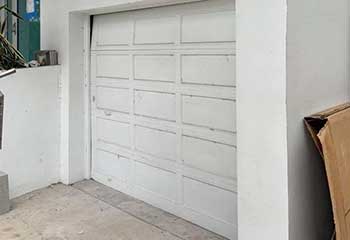 Garage Door Off Track
Customer Issue: Mr. Zinger's garage door came out of its tracks. As is often the case, this was caused by the screws holding the tracks in place coming loose, allowing them to wobble during door operation.
Our Solution: This was a straightforward garage door reinstallation project. We disconnected the door, raised it off its tracks and then leveled the loose track with its twin and retightened its screws. Then, we raised the garage door back up and slid it down into the straightened tracks, reconnected it, and ran the tests. Good as new!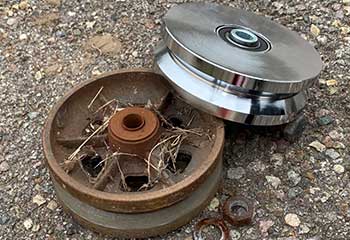 Cable Replacement
Customer Issue: The customer noticed a slight list to the left side when her garage door opened. Over time, this got worse and worse until she feared something was about to break.
Our Solution: We got to the customer's garage and looked over the automatic door system for the problem, and soon found the torn and tangled lift cable. With the garage door disconnected, we disengaged the lift cable and its twin and unraveled them from their spools. We installed a new pair, reconnected everything, and found the garage door working again.