Track Replacement
Customer Issue: Garage door tracks were bent out of shape due to bad rollers.
Our Solution: Damaged rollers increased the stress placed on the door itself, and that caused the tracks to bend. So, we took down the door, properly aligned the replacement tracks and tightened them down. Mr. Mosley accepted our suggestion and let us install nylon rollers instead of the metal ones. We put the door back, reconnected and tested them - Mr. Mosley was happy his door was not only fully functioning but much quieter to boot!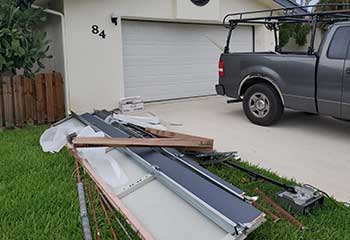 Garage Door Replacement
Customer Issue: Mr. Glenn's existing door had no insulation and looked like it was ready to fall apart.
Our Solution: We guided Mr. Glenn through a myriad of options, listing the pros and cons of the models that best suited his taste. We returned with the door of his choice and components that also needed to be replaced because the door we were installing was much heavier than the existing one. Once we completed the installation and did the necessary programming, adjusting and testing, we were on our way.